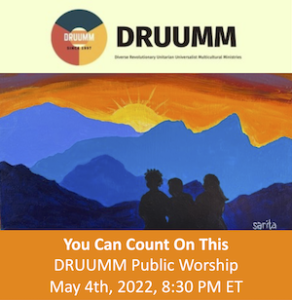 When: May 4, 2022, 8:30 PM Eastern
Registration: All to all.  RSVP link
Where: Online
Program Information: See below
DRUUMM's Public Worship, open to all, will be held on Wednesday May 4th, 2022 at 8:30 PM Eastern. Our theme is "You Can Count On This" with guest preacher Rev. Tyler Coles of Virginia and musical artist Dr. Zanaida Robles of California. This painting is by member Sarita Gonzalez who has gifted this original artwork for the cover of our program.
We are blessed to have over 30 co-sponsors for this years Public Worship and we are doing a last call to invite congregations and organizations interested in visibly supporting our ministry with Black, Indigenous, and People of Color in Unitarian Universalism.
This event is open to all and we invite you to share this with your community. RSVP: https://tinyurl.com/DRUUMMPublicWorship